For Teens – Registration is required.
Interested in reading different genres within YA and possibly making a friend or two? Come to our virtual Discord book club where we read a YA book each month and discuss what we liked and didn't like about the book without having to leave the comfort of home. From Mystery, to Fantasy, to Manga, to Nonfiction, we plan on touring the whole YA section.
Join our Discord here.
This month our genre is Romance! We'll be reading Aristotle and Dante Discover the Secrets of the Universe by Benjamin Alire Sáenz.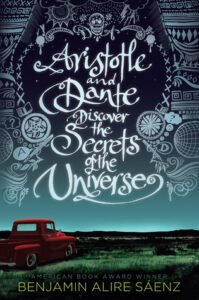 Aristotle is an angry teen with a brother in prison. Dante is a know-it-all who has an unusual way of looking at the world. When the two meet at the swimming pool, they seem to have nothing in common. But as the loners start spending time together, they discover that they share a special friendship—the kind that changes lives and lasts a lifetime. And it is through this friendship that Ari and Dante will learn the most important truths about themselves and the kind of people they want to be.