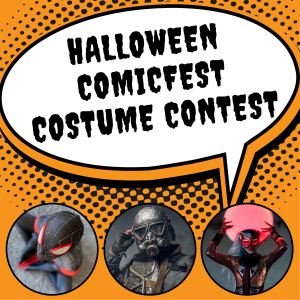 All Ages – Extended submission Oct. 1 – Nov. 5
Halloween Comic Fest is the celebration of comic books and supporting friendly neighborhood comic book shops near you!
Email a picture of your best Halloween costume to ygrande@fppld.org for a chance to win a $50 gift certificate to Gem Comics.
Gem Comics is located at 125 W 1st St, Elmhurst, IL 60126.
Submission Rules
Email must include:
Your Name
Phone Number

Your attached picture
A brief description of your favorite costume picture
Costumes can be 

anything

you like. 
Note: You can have only 1 entry. If you would like to enter another picture let us know via email. The final day of submission is Saturday, November 5th
Library staff will review and vote for the best costume picture.
If you have any questions, email ygrande@fppld.org.
Good luck!