Elementary/Middle School District 84
What is now considered Franklin Park School District 84 grew out of Public School District 84. The first school building in the area was built in 1888, and was located at the intersection of Rhodes and Wrightwood in River Grove. In 1893, Leyden Township school trustees purchased a site at the corner of Chestnut and Gustav in Franklin Park. The building, built on this site, became known as the Brick School. The area served by the Brick School and the Rhodes School was known as Cook County Public School District 84. A newly created seven-member board handled the operations of the "main" school (Franklin Park) and the "branch" school (Rhodes School). In 1916, River Grove residents voted to separate from School District 84 and became School District 84.5.
In 1916, District 84 built a new building that was considered to be very innovative for the time. It was built on the site of where the Brick School had been located. Classrooms were built around the perimeter of a large-group instructional area. The building housed an auditorium with six surrounding classrooms. Construction of this building began in 1929 but wasn't completed until 1942. This building became known as Main School. In 1971, Main School was renamed Hester Junior High, in honor of Vance Hester, who was superintendent from 1941-1973.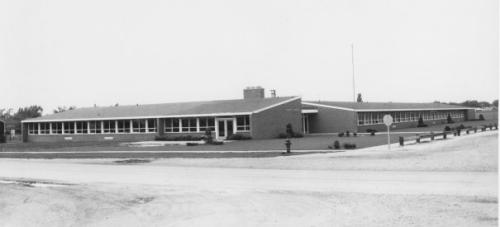 As the need for additional classroom space increased, South School and North School were built in 1953. East School was later built in 1958, and West School was built in 1989. West School has been renamed Passow Elementary School, in honor of Superintendent Lawrence Passow. South School has likewise been renamed Pietrini Elementary School, in honor of Superintendent Dan Pietrini. In 1968, additional classrooms were added to East School. Today it is being leased to an alternative high school.