Come to the library to see our other Franklin Family displays. Our display case features items purchased by G.K. Franklin (in the hopes of someday establishing a library/museum in Franklin Park), as well as a display of "linens and things" donated by Rosemary Howland, niece of the Franklin Family.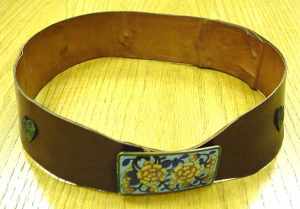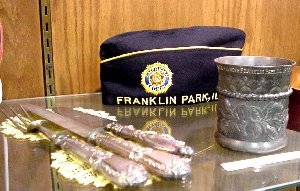 Doilies created by Dora Combes  Franklin (daughter
of Lesser Franklin)
Pewter mug engraved on top  edge: "Lesser Franklin
– Founder  of Franklin Park, ILL. 1890 – His Mug"
American Legion Cap belonging to Gustave King Franklin.
On rear of cap, Post #974 & Life Member patch.
Porcelain Bowl, unmarked matte
blue painted finish with white
interior, gold trim, six
raised medallions.
 An absorbing account of a noted management
engineer and his wife, working abroad,
who discovered the weaknesses in
Europe's industrial system and described
what America can teach other nations in
management know-how.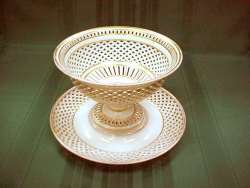 F&M is the mark of a minor Bohemian porcelain factory in Prague (Bohemia) during the last half of the 18th century. Fischer & Meig bowl is 6″ in height and 9″ in diameter; underplate is 11″ in diameter. Both pieces are cream ground with openwork and