For Teens – Registration is required.
Interested in reading different genres within YA and possibly making a friend or two? Come to our virtual Discord book club where we read a YA book each month and discuss what we liked and didn't like about the book without having to leave the comfort of home. From Mystery, to Fantasy, to Manga, to Nonfiction, we plan on touring the whole YA section.
This month our genre is Sports! We'll be reading Icebreaker by A.L. Graziadei.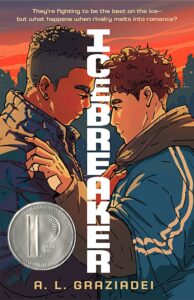 Seventeen-year-old Mickey James III is a college freshman, a brother to five sisters, and a hockey legacy. With a father and a grandfather who have gone down in NHL history, Mickey is almost guaranteed the league's top draft spot.
The only person standing in his way is Jaysen Caulfield, a contender for the #1 spot and Mickey's infuriating (and infuriatingly attractive) teammate. When rivalry turns to something more, Mickey will have to decide what he really wants, and what he's willing to risk for it.