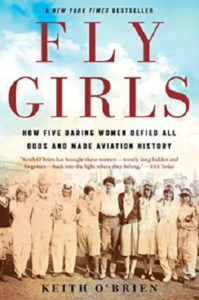 Join us for the Popular Page Turners Book Club for an evening of engaging conversation discussing books in our favorite genres and areas of interest!
We will be discussing Fly Girls: How Five Daring Women Defied All Odds and Made Aviation History, by Keith O'Brian
Fly Girls follows the stories of five remarkable women: Florence Klingensmith, a high-school dropout from North Dakota; Ruth Elder, an Alabama housewife; Amelia Earhart, the most famous, but not necessarily the most skilled; Ruth Nichols, a daughter of Wall Street wealth who longed to live a life of her own; and Louise Thaden, who got her start selling coal in Wichita. Together, they fought for the chance to race against the men—and in 1936 one of them would triumph in the toughest race of all.
Pick up this book on April 13 or later –
Please register below: